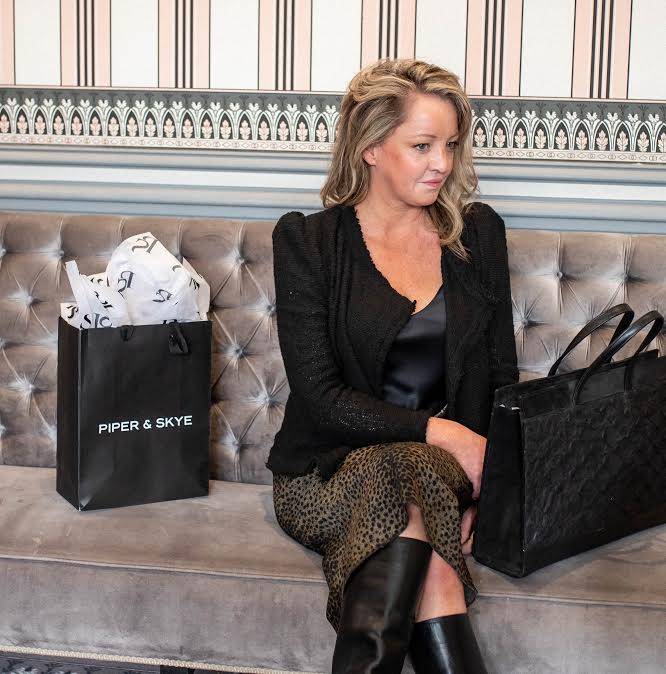 Joanna MacDonald founded Piper & Skye in 2015. With a strong background in design and business, she blended the two worlds she most loves: business and fashion. With a business degree in hand and the tools she learned at London College of Fashion in London, England, Joanna ventured down the road of entrepreneurship. After some soul-searching, she arrived at luxury handbags. Her grandmother loved all handbags and cherished everything from expensive luxury designs to pieces she bought and bartered for in Tijuana, Mexico. Joanna learned at a young age the feeling it brings to a woman when she carries a bag that makes her smile.
Joanna spent 8 years working in Human Resources for a Manufacturing Facility, during which time she achieved her Greenbelt in Lean Manufacturing from Lean Sensei International. The training and body of skills gained during these years taught Joanna to appreciate the value in efficiency and productivity, waste reduction and health & safety. She gained first-hand knowledge and appreciation for a strong supply chain and of being an integral decision maker in each step of the business development process. These are all crucial factors in how Piper & Skye has evolved to what it is today.
Piper & Skye is today a Transformational Company - one that is intimately engaged with the journey towards sustainability certifications and which has always, since its onset, made responsibility top of mind in every single piece of the puzzle. Each and every decision made by Piper & Skye is with intent, purpose, and consideration for the people, animals, and the environment we are all so affected by. Piper & Skye seeks to raise the bar for the luxury goods industry. The hope is that others in the industry will follow the lead of Piper & Skye and produce luxury goods in the most responsible way possible… every step of the way.

Joanna first started using the term "Responsible Luxury" as a way to refer to her endeavors while researching the use of fur in handbag design.

After attending trade fairs and fur auctions, she wasn't able to see a way of achieving her goal of using beautiful luxurious furs in a responsible way - and being able to sleep at night. It is with this consternation that she turned to the search for other luxurious materials that were unique, tactile, and aesthetically alluring for her designs. In this search she found Pirarucu leather, and recently wild American Alligator. Both of these unique materials are tanned sustainably with the utmost respect for the entire process.
Pirarucu, a large fish found in South America, as well as wild American Alligator, are both species in overpopulation in their communities and are used as a food-source primarily. In an effort to reduce waste and honor these incredible species, Joanna has gone to great lengths to ensure that each step in the supply chain towards final production is executed with respect and care. In consideration for water usage reduction, fair working conditions, reduction of chemicals, and reduction of waste, Piper & Skye's entire supply chain treats every species on our planet with responsible care and concern.
Today Piper & Skye aims to represent the luxury accessories industry with transparency and openness, with an eye to "raising the bar" in what has become a marketplace known for being cold and bitterly competitive. It is with a genuine interest and passion that Piper & Skye has committed to work with only those suppliers and retailers who share their same mindset - that luxury goods CAN and SHOULD be made with responsibility a top priority.
Joanna is proud to work with CBSR (Canadian Business for Social Responsibility). Future goals for Piper & Skye include but are not limited to; Certified B Corporation certification, "Canadian B Corps are companies that are leading the charge in using business as a force for good in this country."
Piper & Skye invites you along this journey, as they continue to seek to achieve better sustainability results, increased efficiencies, more luxurious materials, and handbag styles that evolve with you.