How To Care For Your Piper & Skye Leather Products
American Alligator & Pirarucu Leather

To keep your Alligator and Pirarucu leathers looking their very best over the years, we recommend using a leather spray to protect the beautiful finish. If necessary, use a lighter-colored microfibre or damp cloth with warm water and a touch of mild soap to remove any marks.


Please Note: Some dark-colored clothing may affect certain light-colored leathers, please therefore ensure to pre-wash darker colored clothing before any direct contact with your Piper & Skye handbags and accessories.
There may be naturally-occurring "beauty marks" and signs of nature that define the very value of our products and where they originate from...We cherish these. We honor and appreciate these. We hope you do too.
If you have any further questions please get in touch with us at: info@piperandskye.com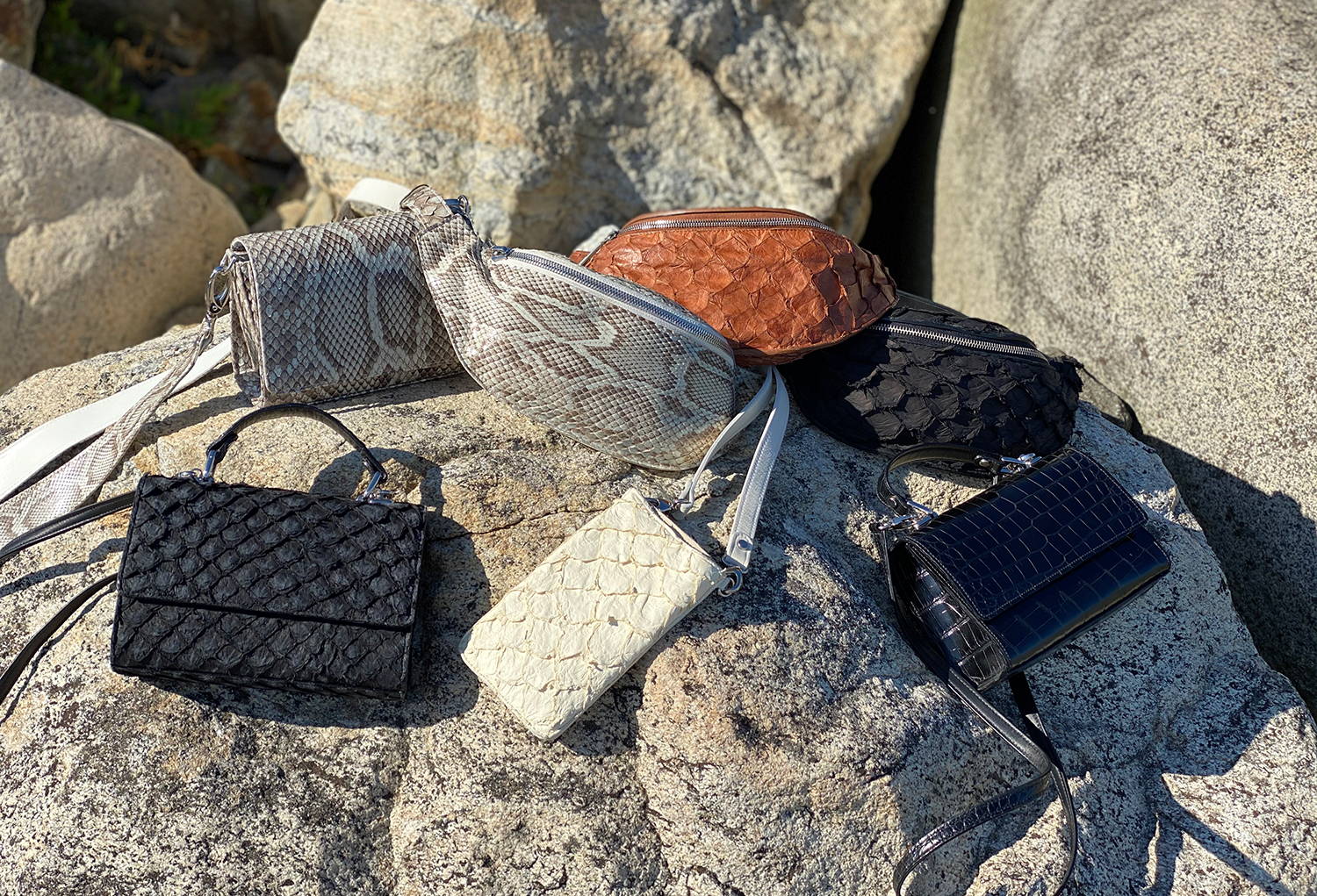 FREQUENTLY ASKED QUESTIONS
Our products are proudly made in the USA.
Does Pirarucu leather smell like fish?
Pirarucu fish leather smells just like other leathers, as it is tanned and dyed the same way.
What is a Transformational Company?

A Transformational Company is an organization seeking to improve their social and environmental impact. We refer to the Transformational Company Qualities as the definitive go-to resource and benchmark.
What does Responsible Luxury mean?

Responsible Luxury is ensuring that our products are made with respect throughout the entire supply chain. From the treatment of animals in the first stage, to the employees working at the tanneries, to the concern for water, waste, reduction of chemicals and our overall carbon footprint as a company. Read more about Responsible Luxury here.

Do we offer modifications to handbags or custom designs?

Unfortunately we do not offer custom designs or modifications to our products at this time. Our creative team is always working on innovative designs and may find a way for us to accommodate customizations in the future. Be sure to sign up to our newsletter and follow us on social media for announcements and new designs.
We are happy to ship internationally to Canada, Mexico, United Kingdom, Europe, Australia, New Zealand, and Russia. Please contact us to arrange overseas shipping to any other international countries for Worldwide Express shipping.
How can I track my package?
Once your order has been dispatched from Piper & Skye you will receive a shipping notification with your tracking number to the e-mail address listed on your order. If for any reason you are unable to track your package please kindly contact us at info@piperandskye.com.

When will I receive my order?
Once your order is confirmed and received by Piper & Skye it will be handcrafted by our artisan team, just for you. Please allow two to four weeks for delivery. For questions and inquiries please contact info@piperandskye.com.
Is Piper & Skye a sustainable company?
We are not yet certified as a sustainable brand, but this is something we are working towards. We feel it is important to remain realistic and transparent throughout our journey to becoming a sustainability. Currently we are making changes within our supply chain and business practices to ensure that when we are ready to acquire certification we will do so with confidence knowing that we can continue to remain honest and transparent with our shareholders and most importantly, our customers.
Are exotic skins sustainable?
The exotic leathers that we use Pirarucu leather and wild American alligator. Both materials come from regions where the species is in overpopulation, and where the meat is primarily used within the local communities as a food source. This means that both pirarucu fish skin and alligator skins would otherwise go to waste. When excess Pirarucu fish skin is burned it releases harmful carbon into the atmosphere. Thus, the fashion industry began tanning and treating pirarucu fish skin as a leather. Similarly, by sourcing alligator skins directly from a community where the animal is primarily used as a food source, this ensures that nothing is wasted. In turn this creates a circular effect across two different industries by eliminating waste and introducing ethically-sourced and responsibly-made luxury products to the market.


Do we use farmed exotic skins?
No, we pride ourselves on using only wild skins (both pirarucu fish and american wild alligator). Our skins are sourced from regions with regulated hunting with respect to the health of the ecosystem.